2020 presented a set of challenges for wine brands seeking to:
Allocate budget already invested in PR that could not be spent on press trips or in-person events.
Communicate their unique stories direct to wine professionals.
Bring the winemaker personality and knowledge to the wine trade in a memorable way
Create opportunities to benefit the whole region and clearly demonstrate a return on investment.t
While finding increased competition for attention on traditional channels and audience "zoom fatigue".
Washington Wine met all of these challenges with audio
In the space of two short months, Washington Wine Commission worked with Interpreting Wine to plan, record and broadcast a series of three podcasts.
• Agreement signed
• Best practices shared
• 50% pre-payment
• Wines shipped
Once agreement was made for a three episode series and pre-payment was made, best practice documents helped WA Wine to refine the scope and choose the winemaker participants. Interpreting Wine host Lawrence had chemistry calls with each winemaker in advance of their interview and their chosen wines were shipped to Lawrence in good time.
• Wines received
• First edit sent
• Interviews recorded
Episodes first covered the winemaker story, local terroir, climate and history, before exploring the wine, thus equipping listeners with the knowledge to feel confident selling each wine. WA Wine listened in to conversations and gave feedback in real-time. First edits of earlier episodes were sent to later participants, meaning these seamlessly built on earlier content.
• Final episode sign-off
• Series promotion
• Broadcast
• Performance reporting
Once edited and approved, episodes were scheduled for broadcast over three successive weeks. Lawrence briefed winemakers and importers on series promotion. Promotion on Interpreting Wine social media channels helped the series gain momentum. For the first three months a monthly performance report was sent to the client.
Listen to the first episode of the series here featuring Juan Muñoz Oca of Chateau Ste. Michelle
Series listening totaled 1780 hours by month one and 2,518 hours by month three.
Washington Wine episodes currently rank #5, #7 and #20 on the Interpreting Wine all-time list.
Per episode listening averaged 594 hours by month one and 839 hours by month three.
The success of the series led to press coverage in influential UK trade publication, the Buyer.
Visual explanation of listener engagement
• The series provided significantly more trade engagement than in-person masterclasses, trade fairs and virtual press tastings
• Information communicated was equivalent to one Prowein per week for an entire year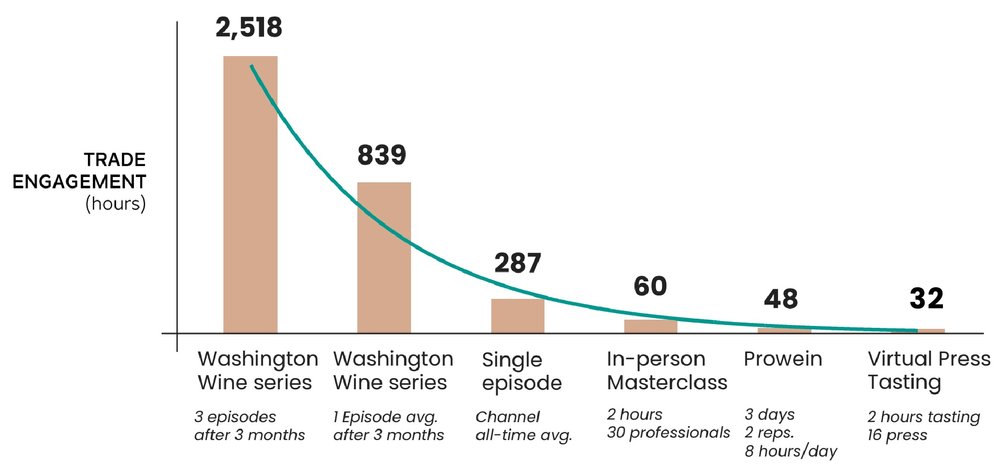 What outcomes are you hoping that the series will bring for the wider region?
Greater visibility for Washington Wines, and a wealth of education for those who seek it out.
More interest towards Washington State Wines from the trade. Give the region the attention it deserves.
Increased exposure for our winery and the region in general, and I think we achieved those things.
Does your brand struggle to
connect with the wine trade in a
post-pandemic world?
Take the free wine marketing scorecard today and discover your
marketing impact score in just three minutes.